Saturday, July 14th, 7-9pm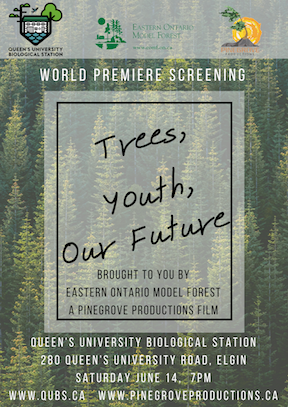 Join us at the Queen's University Biological Station for the world premiere screening of the film series, "Trees, Youth, Our Future". 
This two-part documentary series, tells the enduring story of forest stewardship in Ontario. 
Part 1- The Road to Sustainability: This part traces our relationship with forests from exploitation to stewardship, culminating in the Crown Forest Sustainability Act of 1994.
Part 2- New Forests, New Stewards: The Road Forward: This part examines current sustainable forest management on crown and private lands, and in urban forests. It highlights som of the challenges faced by Ontario's forests, as well as the exciting opportunities for youth to get involved.
Brought to you by the Eastern Ontario Model Forest and Pinegrove Productions.
Saturday, July 14th at 7pm. Includes a meet and greet the producer and refreshments. Click here to RSVP.
Contact Emily Verhoek for more information. emily.verhoek@queensu.ca 613-464-9559.