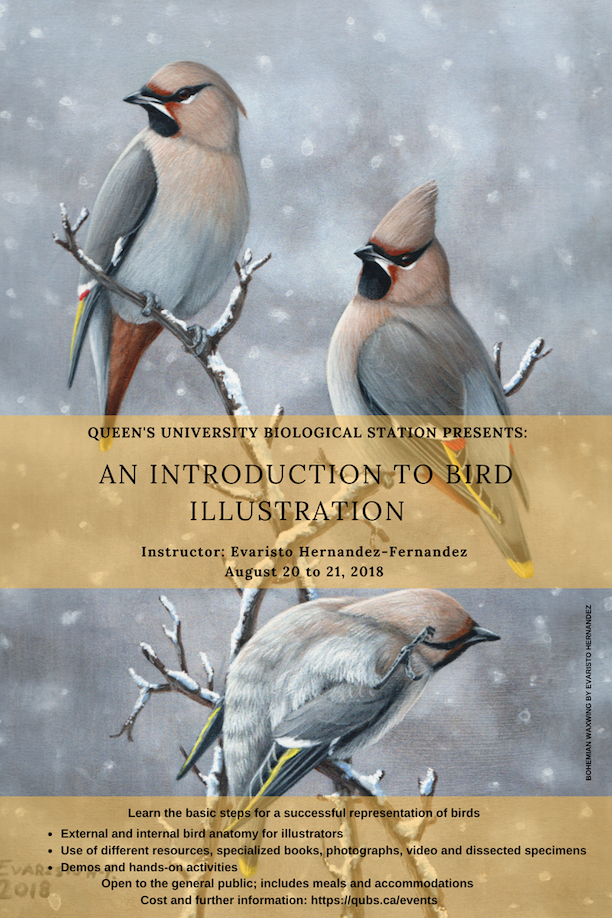 2018 Bird Illustration Workshop details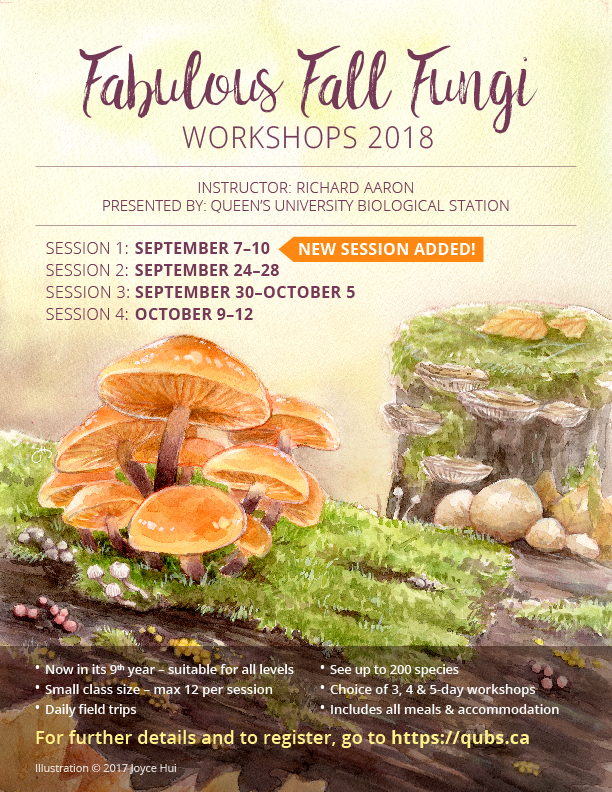 2018 Fungi Workshop Details and How to Apply
You can see other upcoming events here.
Many of our Outreach activities, including Eco-Adventure Camp for 10-14 year olds, occur at our Elbow Lake Environmental Education Centre. Situated at the end of Hewlett-Packard Road off North Shore Road, the Centre is on the shores of pristine Elbow Lake embedded within 400 hectares of rugged terrain and varied wetlands and forests.
Activities like our Open House, weekly spring and summer seminar series, and many workshops occur at our main research and teaching facility on the shores of Lake Opinicon, directions for which may be found on our Contact Page.
Eco-Adventure Camp
Run from July 4th to August 26th, the camp for young people aged 10-14 focuses on exploring nature and the environment, as well as outdoor activities like hiking and canoeing. It is held at our Elbow Lake Environmental Education Centre. For more information visit the Eco-Adventure web site.
Wednesday, May 2nd, 2018 - 7:00 PM
Wednesday, August 29th, 2018 - 7:00 PM
Each year we run a seminar series from May through August, with topics running the gamut of themes on the natural sciences, environmental management, and natural history to wildlife art. Held in the Conference Room in the R.J. Robertson Biodiversity Centre each Wednesday at 7:00 pm, seminars begin in the first week of May. All are welcome!
Date
Speaker
Talk Title
2 May
Dr. Lisle Gibbs
Dept. of Evolution, Ecology and Organismal Biology, Ohio State Univ.
Conservation and coevolution at the molecular level: case studies from rattlesnakes
9 May
QUBS researchers and staff
What we do at QUBS.
16 May
No seminar
NA
23 May
Dr. Rute Clemente-Carvalho, Biology, Queen's University
The striking biodiversity of the Brazilian Atlantic Forest. New species discoveries and the extraordinary miniaturised toads in the genus Brachycephalus. 
30 May
Dr. Evelyn Jensen, Biology, Queen's University
The past, present and future of the Giant Galápagos Tortoises on Pinzón Island
6 June
Dr. Andrea Kirkwood
Biology. University of Ontario Institute of Technology
It takes a village: Building community-university partnerships as a viable model for environmental research
13 June
Dr. Stephen Lougheed, Biology, Queen's University
Avian diversity of East Africa.
20 June
Ian Fife, Bird Studies Canada
Frontenac Forest IBA and ongoing work on Cerulean Warblers
27 June
Dr. Stephen Lougheed, Biology, Queen's University
BEARWATCH. Creating a pan-Arctic monitoring program integrating genomics and traditional ecological knowledge.
4 July
Dr. Scott Ramsay. Biology. Laurier University.
Just when you thought you knew everything: song variation in white-throated sparrows.
11 July
Shelley Ball, Biosphere Environmental Education
Antarctica: stories of women's leadership, climate change, and a sustainable future
18 July
Documentary screening.
The Messenger. http://songbirdsos.com/about/messenger/
25 July
David Rival and Mike Rainbow. Mechanical and Materials Engineering. Queen's University
Bio-propulsion and adaptation: A two-way street connecting biology and engineering
1 August
Dr. Beth McDougall-Shackleton.  Biology, Western University
Love in the time of malaria
8 August
Tom Ray. Amateur local astronomer.
The night sky from the perspective of a prisoner of gravity. Astronomy and amateur astronomy, as well as the incredible things which you can see in an amateur telescope.
15 August
Auston Chhor, Danny Glassman, Brooke Etherington (Carleton University). Audrey Turcotte, Catherine Čapkun-Huot. University of Ottawa
Exploring the consequences of 186 years of altered environments in the Rideau Canal waterway on aquatic organisms
22 August
Amelia Cox, Biology, Queen's University
Long-term study of an avian aerial insectivore points to climate change as a driver of decline
29 August
Steve McGovern. (Retired, Aquatic Ecosystem Team Leader. Northeast Science and Information Section. MNR, Northeast Ontario Region, South Porcupine)
Rivers of Ontario's far north - Balancing development and protection