Have you seen a Northern Map Turtle nesting on your property on Lake Opinicon? 
Some turtles have the bad habit of laying their eggs where they may be destroyed by vehicles or machinery. We can relocate these nests to a safe incubator at the QUBS and bring back the babies when they come out.
WE ONLY RELOCATE NESTS FROM MAP TURTLES
To be relocated, a nest must be in a: 
construction site
a driveway
in the middle of a gravel road (this excludes road shoulders)
in any area that will be used by heavy machinery or vehicles
We will not relocate nests from
lawns
flower beds
road shoulders
septic fields
WE ARE NOT PROTECTING NESTS FROM THEIR NATURAL PREDATORS
We are not relocating nests to protect them from their natural predators. If you want to protect a nest from predators, you can cover it with a nest protection box. We have a few to give away or you can build your own. See this link for instructions
WHAT TO DO IF YOU SEE A NESTING MAP TURTLE?
Keep an eye on it from a distance. Nesting females are skittish and will abandon their nesting attempt if disturbed. When a female is done laying her eggs, she will start filling up the hole with her hind legs. When the female starts moving away from the nest, you can approach the nest and mark the nesting location by laying a branch or small rock on top of it.  Turtles sometime like to take their time when searching for a nest so locating a nest may take a while but it's worth it.
WHO TO CONTACT?
Call or text Greg Bulté at 613-889-7549 or email QUBS at qubsoutreach@queensu.ca 
WHAT DOES A NESTING MAP TURTLE LOOK LIKE?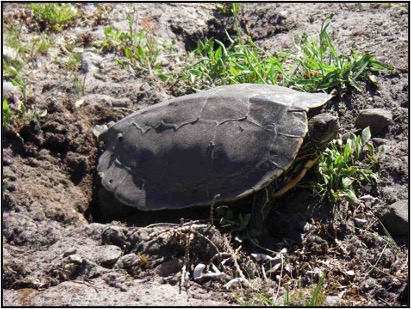 A female map turtle is about 25 cm long (10 inches) and has yellow stripes on its head and legs. It does not have any red markings.  Map turtles also have a short tail. If the turtle has a long tail (as long as the shell) it is a snapping turtle. If the turtle is about 15 cm (6 inches) with a black shiny shell and some red and yellow markings on its legs and head, it is a painted turtle.
A turtle on land may not be nesting. Nesting females can be picky and may take a while before starting to dig out a hole in the ground to lay their eggs. A turtle digging a nest or laying eggs will have its rear end in a depression in the ground and will make slight side to side motion.  Turtles cover their nests very carefully. If you see a hole in the ground, it may be an abandoned nesting attempt by a turtle but it will not contain eggs.